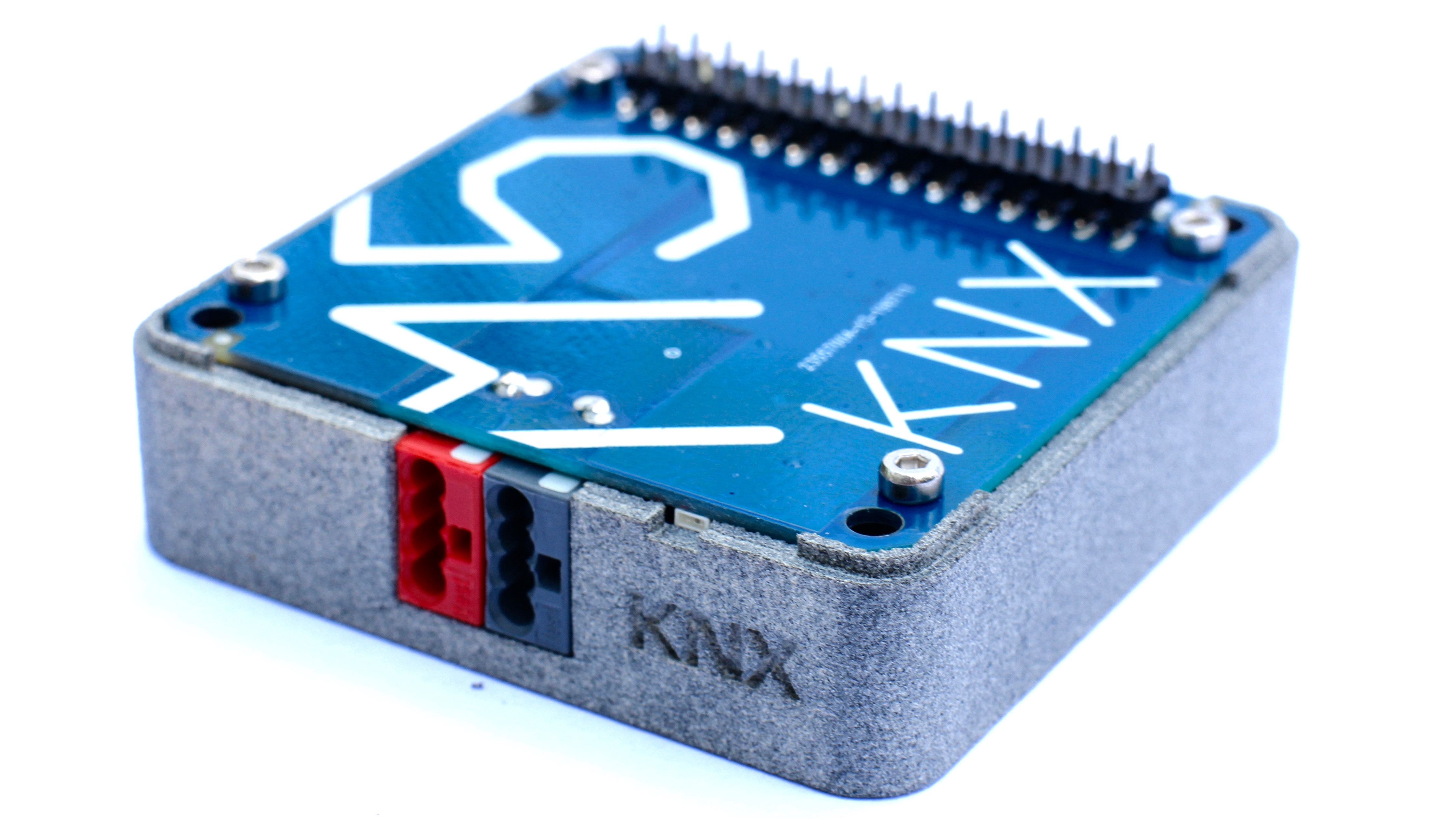 KNX/EIB module for M5Stack? series based on TPUART2
Welcome to busware.de
We hope to make this an interesting place for those looking after innovative and cool but affordable hardware solutions, which will be supplied as OPEN HARDWARE for any OPEN SOURCE firmware you may write.
We are not selling ready-to-use endcustomer-products.
We just supply you with pieces of hardware and accessories making your open source development even more exciting.
Once you finish writing your killer firmware we can offer you high volume production or you may just licence our designs to receive full production data.
News
2019-07-20 - KNX/EIB module for M5Stack? series based on TPUART2
2019-07-18 - Watch, extension, DIN rail and GoPro-alike? enclosures w/ mount for M5Stack? series
2019-07-11 - LoRa 868MHz module for M5Stack? series
2018-02-09 - Pigator-Module-Adapter NMC2 prototype featuring ESP32-SoC connectivity
2017-05-10 - prototyping TUI - the universal interface from USB, LAN or WLAN to KNX/EIB by TPUART2
2017-03-23 - prototyping LUW - LoRa-USB-Light? - a single channel LoRaWAN? gateway with WiFi? uplink
2017-02-22 - moving forward into LoRaWAN developments
2017-01-19 - BLE/iBeacon scanner has been successfully prototyped
2016-12-14 - TuxRadio version 4 has been successfully prototyped
2016-11-28 - first functional TBL - TPUART Bluetooth Light - setup
2015-09-17 - single PIGATOR module host plus Onewire & RTC for Raspberry Pi in a DIN rail enclosure == POD
2015-04-23 - introducing RF69 USB stick - a RFM12B and Arduino Leonardo compatibe radio transceiver
2015-01-15 - sucessfully tested first PIGATOR modules and carriers
2014-11-07 - prototyping NMC - a

n

etworked

m

odule

c

arrier
2014-10-27 - TuxRadio version 3 has been successfully prototyped
2014-07-03 - first prototypes of TRR - KNX/EIB-TPUART with RTC on DIN-rail for Raspberry Pi
2014-04-16 - first prototypes of LUX - 18bit, up to 260k lx brightness sensor with battery, USB and CC1101 radio
2014-04-05 - first prototypes of IRH - a miniature

I

nfrared

R

eading/writing

H

ead for smart meters with magnetic front, direct microUSB and CC1101 radio inside
2014-02-04 - testing on first 3D-printed prototypes of RXR - Raspberry Xtension Ring
2014-01-16 - finished design of sandwich ring to cover multiple extensions i.e. SCC -

S

tackable

CC

1101 transceiver inside a enclosure w/ RPi
2013-12-07 - prototyping SCC -

S

tackable

CC

1101 transceiver
2013-11-04 - prototyping an isolated RS485-USB-Stick: RUX - with fast and freely programmable ATXMEGA processor
2013-07-24 - prototyping RPi-CAD extension - an I2S-HD-audio? (96kHz/24bit) extension with TFT/Touch-display, IR receiver and RTC for Raspberry Pi
2013-07-19 - prototyping RPi-CCD extension - 2.8" color TFT-Display combined with touchscreen, 868MHz radio transceiver and real time clock for Raspberry Pi
2013-07-13 - started firmware for FT1.2 protocol support on TUL USB device - so ETS can directly use it.
2013-07-10 - First devices can "bootload" alternative firmware by using Dudette-bootloader
2013-05-29 - The Arduino CSM-Shield is now available in our shop
2013-04-29 - first prototypes of 6 channel HiPower-LED driver for DIN rail built
2013-04-22 - first prototypes of Ceiling Sensor Board built
2013-04-19 - ported Debian Wheezy and Linux 3.8.7 with FHEM 5.3 to TuxRadio
2013-04-04 - first prototypes of CSM-Shield for Arduino built
2012-10-25 - all our money transfer invoices now include a BezahlCode for ease of entering bank information and values
2012-10-15 - prototyping on RPi-SD0 extension - interfacing 4 channels S0 & 1 channel D0 of smart meters for Raspberry Pi
2012-10-13 - prototyping on RPi-ROT extension - mainly a Onewire & KNX/EIB extension for Raspberry Pi
2012-09-28 - RPi-COC extension is now available in our shop
2012-08-19 - Start of designing COC extension for Raspberry Pi (RTC, CC1101, EEPROM, OneWire)
2012-07-22 - Started some facebook pages: http://www.facebook.com/busware
2012-06-01 - first imx233-based busser TUX prototype
2012-03-22 - first busser TUX prototype
2012-03-13 - HUL now shipping: 802.15.4 based HF-frontend @ 868MHz to run Contiki OS
2012-03-02 - Field testing RPL (mesh) routing capabilities of Contiki OS-based devices
2012-01-27 - HexaBus compliant, AT86RF212-based USB stick and IP65 switch w/ energy measurement
2012-01-19 - RFM12B USB sticks are now available
2012-01-13 - CUNO 433MHz is available
2011-09-12 - first NUX prototype
2011-09-05 - all our development and designing is done on Macintoshes, thank you Steve!
2011-09-16 - CUNO V2.1
2011-08-29 - first Enocean-USB-light EUL prototype - TCM310 transceiver to USB interface
2011-07-11 - TUL is shipping
2011-05-19 - first TPUART-USB-light TUL prototype - a KNX/EIB to USB interface using standard TPUART
2011-04-16 - CULM prototyping
2011-03-31 - CC1101-Hand-Sender (CHS) - V2 prototyping
2011-03-23 - TuxRail - V2 prototyping
2010-11-27 - TuxRadio - prototyping
2010-11-22 - CUNO - is shipping
2010-10-10 - CUNO - prototyping
2010-09-29 - CUL models V3.2 are out.
2010-09-09 - busware.de got assigned its own Organizationally Unique Identifier (OUI) - A4-50-55
2010-08-15 - busware.de is now IPv6 accessible ...
2010-07-10 - TuxRail prototyping
2010-04-26 - bitbridge prototypes ready for testing
2010-04-19 - CUL version 3 is shipping
2010-03-30 - Version 3 prototype of 4S0ETH - known as kWh-Logger. Now operated by a real embedded linux (AVR32 or ARM9-G45).
2010-03-17 - First prototypes of CC1101 modules with m324 processors
2009-10-28 - Busware-USB-Interface BUI has been prototyped - running as AVRISPmkII clone
2009-09-04 - last round prototyping the CC1101 with Ethernet CUN
2009-06-12 - Speeding up development with our new Essemtec EXPERT half-automated Pick&Place machine
2009-03-06 - first PMF-S - "Pimp my Funksteckdose" prototype
2009-02-20 - re-designing CUL - What is new?
2009-01-30 - prototyping on 4S0ETH (4 channel S0-to-Ethernet? bridge) - see Image Gallery
2009-01-26 - designing Freebus-USB-Lite FUL module
2009-01-22 - designing 4 channel S0 module with PoE-Ethernet? and 1wire interface
2009-01-19 - prototyping on CPM (universal CC110x-Processor-Module) - see Image Gallery
2008-10-27 - First CPC installation in Thailand - Image Gallery
2008-10-09 - prototyping on CPC - CC110x-based pool control
2008-10-08 - DCUN (Dual CC1101 USB & Network) prototyping
2008-09-30 - some CUL modules are now available in our shop
2008-09-03 - CC1101-USB-Remote CUR prototype
2008-09-01 - CC1101-USB-Light CUL module now in production
2008-08-24 - final on CUL module