CUNO V2 - CC1101 USB Network Onewire ...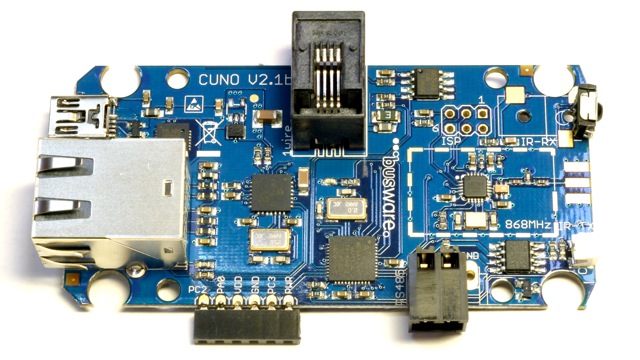 End-Of-Life
The
CUNO
will be
replaced by
CUNX
shortly.
featuring:
m1284 cpu
CC1101 @ 868MHz/433MHz
USB - CP2102
OneWire? host DS2482 @ RJ10 - 4p4c
Ethernet - ENC28J60
RS485 interface on pinheader (optional socket)
Infrared Rx (38kHz) & Tx (with optional Rx socket)
3GPIO feature connector
bootloader switch
multi purpose led
6ISP connector
RP-SMA edge-pinheader
powered over USB
plastic housing available
Have a look at this modules
Image Gallery
Documents
OUI mask for CUNO is: A4-50-55-00-1x-xx
Onewire
Front view plug / Stecker von vorn
3-yellow (+5V fused) / 4-green (OW return) / 5-red (OW) / 6-black (GND)
Discussion
Firmware
culfw - firmware for FHEM
How to flash this device:

locate the PROGRAM button at the module
keep it pressed while plugging the USB cable in (make sure you you have CP210X-USB drivers for your OS installed)
at the enumerated serial port run:
avrdude -p atmega1284p -P /dev/ttyUSB0 -b 38400 -c avr109 -U flash:w:
CUNO2.hex
optionally you may run: make usbprogram
3nd party projects
Availability
This module is no longer available. Checkout
CUNX
as an replacement ...
Created by: tostmann last modification: Wednesday 23 of September, 2015 [10:44:09 UTC] by tostmann