CC1101 - USB - Remote
USB enabled CC1101 remote control
General
End-Of-Life
This remote looks a bit like a mobile phone, in fact there are many similarities. The front is occupied by a 132x132 full color display with background light. Below, for navigation, a mini joystick. Above the display a multi purpose green LED. To make navigation more flexible you have a three-way-jogdial at each side.
A mini USB connector is located at the bottom. This can be used to charge the internal Li-Ion
?
battery and (obviously) exchange data with the remote.
Have a look at this modules
Image Gallery
...
Specs
AT90USB646/1286 processor 8MHz @ 3.3V
CC1101 - ISM transceiver tuned for 868MHz
1/4 wave micro antenna
Li-Ion/Polymer battery incl. charger via USB
2MB data flash
131x131 pixel RGB display with white background light
buffered Real Time Clock
950nm IR led - 38kHz IR receiver
5-way mini joystick
green multi purpose led
MiniUSB connector
JTAG and ISP connector
Documents
Firmware projects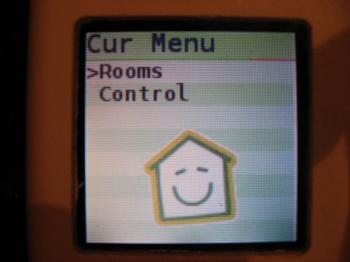 Links
Created by: tostmann last modification: Thursday 18 of October, 2012 [23:34:03 UTC] by tostmann