ROT a RTC-OneWire-TPUART (EIB/KNX) extension for Raspberry Pi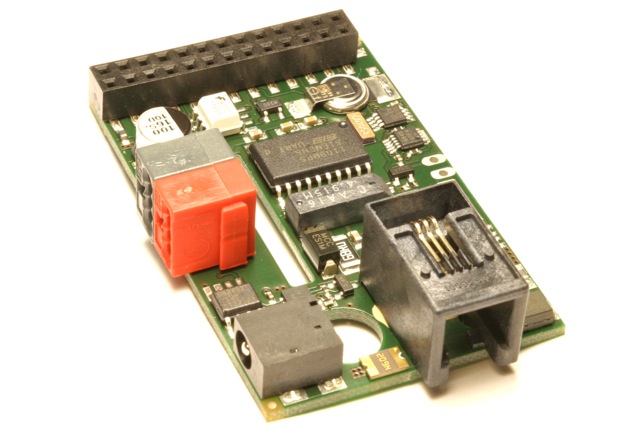 extension board
General
This module has been discontinued.
It is replaced by either
Pigator Onewire with TPUART
which shares same electronically features, but fits all Raspberries and Banana Pis or:
If you need it with proper DIN-rail enclosure have a look at
Pigator-OneWire-DIN-rail
extension!
- see
image gallery
Specs
direct mount onto Raspberry Pi module B
2kbit EEPROM @ I2C
DS1339 RTC @ I2C - with 220mF SuperCap backup
DS2482-OneWire @ I2C w/ 5V Levelshifter & strong pullup @ RJ10-4P4C
opto isolated TPUART @ ttyAMA0
PSU connector (optional)
wide range switching voltage regulator 6-36V (optional)
PWM fan driver @ GPIO18 (optional)
fitting enclosure (optional)
Documents
Onewire
Front view plug / Stecker von vorn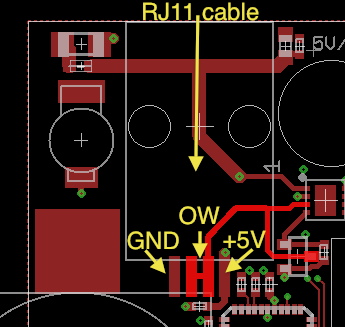 3-yellow (+5V - 350mA fused) / 4-green (OW return) / 5-red (OW) / 6-black_or_white (GND)
3rd party application
Price & Availability
This module is no longer available. Check Pigator-Onewire-TPUART
?
in our shop
- Price: 79 Euro.
Acknowledgement
Raspberry Pi
is a trademark of the
Raspberry Pi Foundation
Created by: tostmann last modification: Tuesday 06 of October, 2015 [15:49:34 UTC] by tostmann