TuxRail - the embedded linux board for DIN-Rail solutions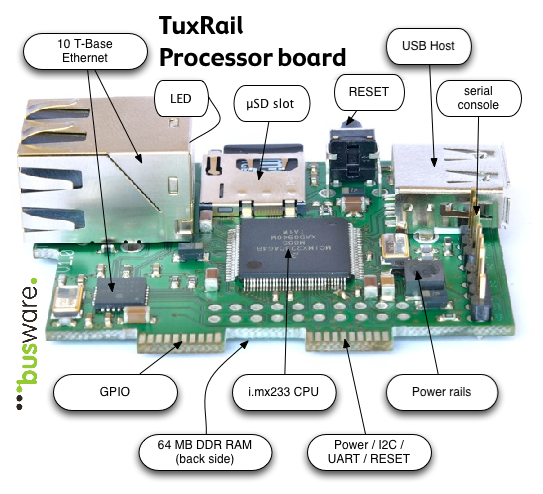 End-Of-Life
Free your mind and concentrate on your application!
Processor, memory, USB, Ethernet (even the sockets!) are already there. Simply connect to the Linux-well-supported interfaces: GPIO, UART or I2C and progress your development.
Due to the μSD-slot you have gigabytes of storage. This allows you to have swap memory and run full featured Linux, like Debian. Its ARMEL favour gives you immediate access to thousands of common precompiled packages.
The imx233 processor clocked at 454MHz gives you moderate performance while consuming about 1 watt of power.
You may either create your own application board or, just to power the board, plug an A-A USB cable.
For now just a few pictures of the first instance of
TuxRail
. It will become the processor board in our
smart meter logger
.
Facts:
Miniature Linux board based on Freescale i.mx233 processor - 450 MHz
64MB DDR RAM
μSD-bootable / i.e. Debian Lenny
USB Device/Host
Ethernet
Application board connector: UART / I2C / 8xGPIO / 3.3V
Single 5V Power supply
fits into standard RAILTEC B - DIN-rail cases, 2..12 TE
Documents
Software/Sources
Things found to be working:
GPS: using gpsd and bluez connecting via LogiLink? BT0007 (BT-USB-dongle) to a Jentro bluetooth-gps-mouse
WLAN: Edimax EW-7711 series adapters (via USB)
MJPG-Streamer with Logitech Webcam QuickCam? Sphere AF
USB-LAN-Adapter (ie. DM9601 based)
DisplayLink? Monitors (SAMSUNG U70/MIMO UM-720S) running tty-console or playing YouTube? (via framebuffer - USB)
UMTS + HSDPA + EDGE + GPRS stick HUAWEI K3765-HV working. Tested downstream: 568 KB/s
Price/Availability
The module is no longer available for sale in our
shop
Images
Have a look at this modules
Image Gallery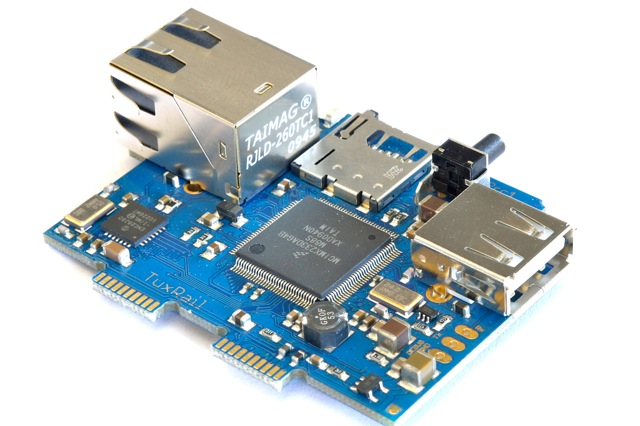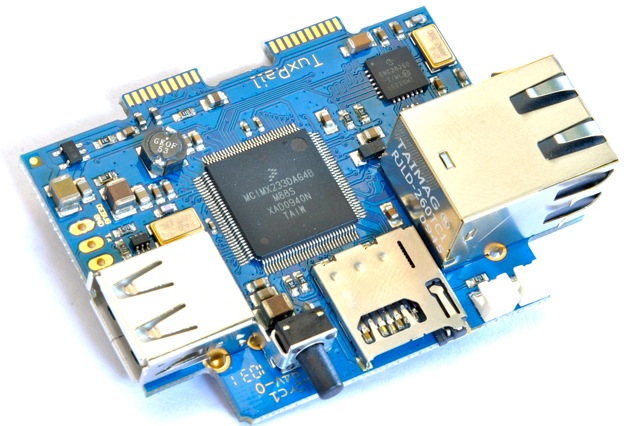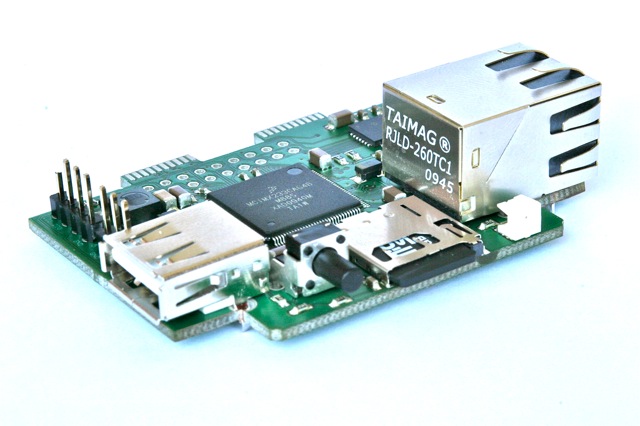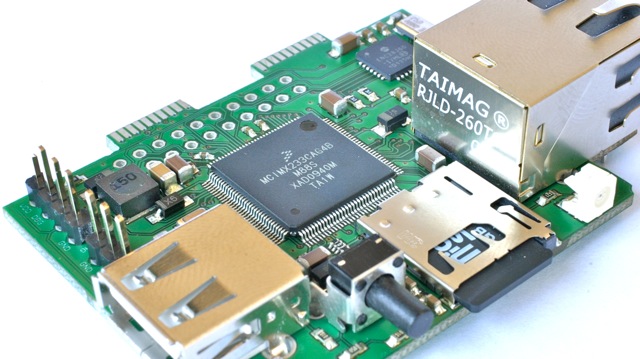 Created by: tostmann last modification: Thursday 18 of October, 2012 [23:38:47 UTC] by tostmann