SOM Pi - an A20 based system-on-module in SODIMM-200 shape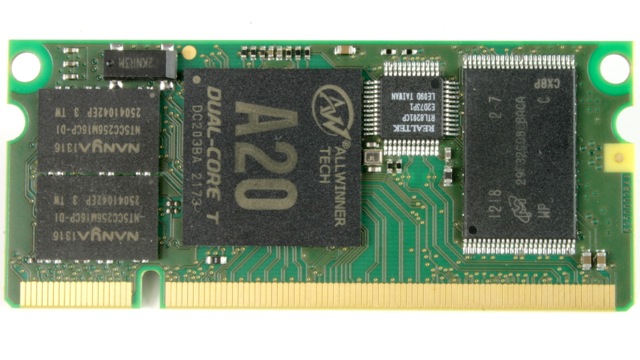 first working prototype
General
Combining the power and software-ease of community proven embedded boards like: BananaPi
?
, Cubie, OLinuXino, PCDUINO3 and others we developed a small sized module with such core hardware components. Your own PCB design must simply 5V-power the SOMPi and can get connected by just wiring an Ethernet socket.
All needed I/O is available at the 200pins of a standard SODIMM-Module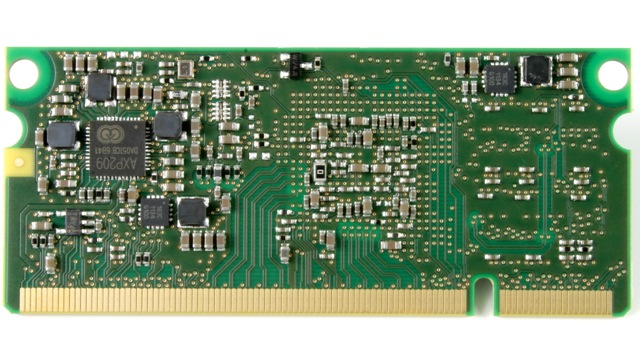 see:
Specs
A20 Dual core 1GHz
RAM 512MB up to 2GB
onboard NAND Flash 4GB
onboard Ethernet PHY
at the 200 pins:
single 5V supply
dual USB host & USB OTG
10/100MBit Ethernet
HDMI out
onboard power management and 2.8V/3.3V out
Battery connector
JTAG
dedicated Debug-UART
up to 6 additional UARTs (2x with RTS/CTS)
2x I2C bus
2x SPI w/ 2x CS each
2x PWM
2x ADC
1x CAN
2x LVDS bus
1x SATA
1x CSI bus
analog audio IN/OUT
digital audio I2S/PWM
2x SD card interface
Infrared RX/TX
18x GPIO
resistive touch screen interface
Price & availability
This module is available from
In-Circuit GmbH
starting 59 Euro.
Created by: tostmann last modification: Tuesday 20 of January, 2015 [16:11:36 UTC] by tostmann